On the heels of International Women's Day and during Women in Construction Week, we're featuring our Traffic Control Supervisor, Hannah O'Brien. Hannah is one of the many women who make up SVLP.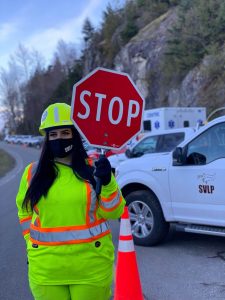 If you have needed traffic control from Shxw'ōwhámél Ventures, you probably had the pleasure of working with Hannah. As Traffic Control Supervisor, she's responsible for organizing our traffic control team and making sure we're able to support our client's needs in this way.
Hannah started at SVLP two years ago as a general labourer during the construction of the LandSea camp for the TransMountain Expansion in Hope BC. This was the first step in her career that opened the door to a variety of experience and training opportunities.
Through training offered by SVLP, Hannah completed eight certificates that allowed her to progress her career to where she is now as the Traffic Control Supervisor.
"Hannah is a key individual at SVLP, she is always willing to help and support our team. Her expertise and commitment to safety are evident in everything she does. We called on Hannah during some high-pressure and emergency response situations and she doesn't hesitate to respond to a challenge. We're proud to have her on our team and it's been amazing watching her career grow" reflects Landon John, General Manager of SVLP.
In the past twelve months Hannah was involved in fire response, flood response and highway restoration efforts with SVLP and our partners. She has recently returned from a month in Merritt supporting the critical highway restoration project. When reflecting on all the work and emergency situations that she faced this year her highlight was seeing the commitment to safety from the entire SVLP team and getting everyone home safe. Now she's focused on the TransMountain Expansion Project in Hope BC. Hannah is also actively involved on Health and Safety committees providing recommendations to improve on-site safety with our partners on various projects.
When asked how she first gained interest in the construction industry, Hannah attributes this to her grandfather, who was always working on household projects and introduced her to the industry. Her interest and active role in smaller projects naturally turned into a growing passion for larger projects.
Her advice for women thinking about getting into the construction industry is to "just do it, it's not as scary as you'd think. It's a rewarding industry to be in." Hannah refers to her experience at SVLP as welcoming, supportive and full of opportunities. SVLP is actively hiring for traffic control personnel and Hannah looks forward to welcoming new team members to her team.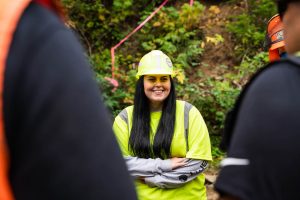 SVLP prioritizes providing training to employees and encouraging growth from within. We're proud to see our employees grow their careers with us. Through our connections with our experienced partners, and the rewarding projects that we work on, the opportunities that we can provide continue to expand. If you're interested in joining our team and meaningful career opportunities in the construction industry, reach out today.