Our Partners
We've partnered with
industry leaders
.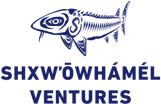 Our Partners
To help build our capacity and become the specialized construction company that we are today, we've partnered with like-minded industry leaders to work together on major projects. Our partners provide unique service offerings that allow us to participate in every opportunity within our traditional territory.










We Work as One
Our approach to working with our partners is simple. We work together to determine new opportunities that allow us to work as a core team on our projects. We are fully integrated into all aspects of our job together with a key goal to bring long lasting value and benefits back to our community. We consider our partners part of our extended family.
Collaboration
Partner With Us
We are always looking to partner with industry leaders to bring new business opportunities to our community. Please contact us if you are interested in partnering with Shxw'ōwhámél Ventures.